Professional Potting Soil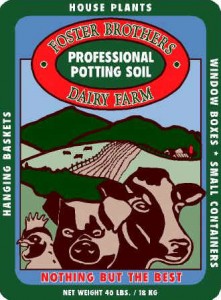 Indoor and greenhouse uses require a special formulation of product to achieve maximum growth. Foster Brothers Dairy Farm Professional Potting Soil provides an ideal environment to start, transplant, and ultimately maintain a wide variety of plants. This is a year-round product for the homeowner with lush indoor growth. As a repotting medium, Foster Brothers Professional Potting Soil® is the standard that others try to achieve.
Ingredients:

Dehydrated Composted Cow Manure
Sphagnum Peat Moss
Perlite
Vermiculite
Sand

Applications:

Hanging Baskets
Window Boxes
Small Containers
House Plants

Available Bag Sizes:
32 qt, 16 qt
To request more information or to place an order, click here.
To select another Foster Brothers Dairy Farm product, click here.