MOO DIRT® TOP SOIL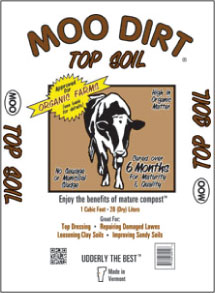 MOO DIRT® is the lawn care product for families. It's a superior blend of composted cow manure, compost, humus, and sand. People love it because there is nothing in it that can contaminate their kids and pets. It's great for building sod, reseeding, repairing damage, and topdressing. MOO DIRT® is a garage stable product, which makes it a great add-on sale for anyone doing construction, deck work, and swing set installation.
Ingredients:

Composted Manure (from one or more of the following: cow, horse, and chicken)
Sphagnum Peat Moss
Sand

Applications:

Improving Poor Soils
Seeding New Lawns
Top Dressing Lawns
Repairing Damaged Lawns
Filling Low Spots
Amending Existing Soils
Replacing Poor Soils

Available Bag Sizes:
1 cf
To request more information or to place an order, click here.
To select another Moo™ product, click here.