MOO GROW® ALL-PURPOSE POTTING SOIL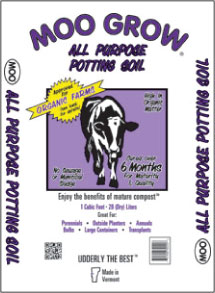 MOO GROW® can do it all! From large containers to raised beds to window boxes to reviving existing gardens, MOO GROW® will keep your customers happy and coming back!
MOO GROW® is also the perfect product for that customer who is new to gardening, and doesn't really know what they want. Without a lot of effort, MOO GROW® will provide an excellent growing medium for both novices and experts and will keep them coming back to your store for more!
Ingredients:

Composted Manure (from one or more of the following: cow, horse, and chicken)
Sphagnum Peat Moss
Composted Hardwood Bark
Sand

Applications:

Window Boxes
Garden Beds
Annuals
Perennials
Large Containers

Available Bag Sizes:
1 cf, .5 cf
To request more information or to place an order, click here.
To select another MOO™ product, click here.