MOO MIX®
FORTIFIED PROFESSIONAL POTTING SOIL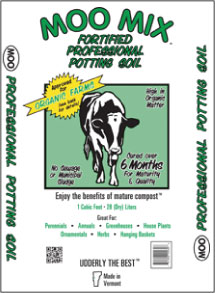 Organic growers agree that MOO MIX® is the ideal choice for indoor growing and transplanting. Composted manure, which is dehydrated for greenhouse safety, is blended with professional grade peat moss to produce an amazing potting soil, sure to impress your customers!  Limited space gardeners as well as apartment dwellers will find that MOO MIX® is easy to handle and brings rapid results to your customers. MOO MIX® is also the perfect choice for basket and barrel plantings — soil answers all in one package!
Ingredients:

Dehydrated Composted Manure (from one or more of the following: cow, horse, and chicken)
Sphagnum Peat Moss
Aged Pine Bark
Organic Fertilizer

Applications:

Hanging Baskets
Window Boxes
Small Containers
House Plants
Greenhouses
Annuals
Perennials

Available Bag Sizes:
2.5 cf, 1 cf, .5 cf

To request more information or to place an order, click here.
To select another MOO™ product, click here.