MOO PLANT™ TREE AND SHRUB MIX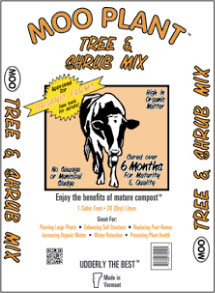 Formulated for ease of use, MOO PLANT™ replaces peat humus products. Great for lining newly dug holes for perennial plantings, trees, and shrubs, MOO PLANT™ has an excellent texture to amend clay as well as sandy soils.  For healthy topdressing, under mulch, or even by itself, MOO PLANT™ has the look and texture that your customers love. Its an easy add-on sale to every shrub, perennial, or tree!
Ingredients:

Composted Manure
Sphagnum Peat Moss

Applications:

Garden Beds
Mulching Trees and Shrubs
Top Dressing Lawns
Improving Poor Soils

Available Bag Sizes:
1 cf
To request more information or to place an order, click here.
To select another MOO™ product, click here.