ALL PURPOSE POTTING SOIL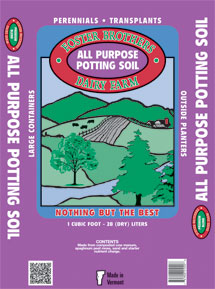 For an economical and environmentally positive container mix, look no further than Foster Brothers Dairy Farm All Purpose Potting Soil. Many of your customers are changing from a traditional garden to large containers and window boxes for their summer landscape. Foster Brothers All Purpose Potting Soil fits the bill.
Compost, peat moss, and humus are blended to produce a mix that is easily portable and provides healthy long-term growth. Both annuals and perennials benefit from its texture and mineral levels, and your customers will be repeat customers when they use this product from Vermont Natural Ag Products, Inc.!
Ingredients:

Composted Cow Manure
Sphagnum Peat Moss
Sand
Perlite

Applications:

Container Plants
Window Boxes
Garden Beds
Annuals
Perennials
Large Containers

Available Bag Sizes:
1 cf, 20 lb
To request more information or to place an order, click here.
To select another Foster Brothers Dairy Farm product, click here.