DEHYDRATED COMPOSTED COW MANURE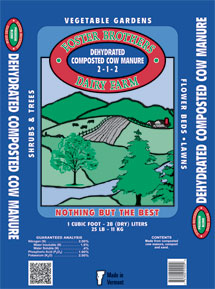 With an analysis of 2-1-2, this product is one of our most effective soil amendments. Lightweight for portability, Foster Brothers Dairy Farm Dehydrated Cow Manure is no lightweight when it comes to potency! Topdress perennials, incorporate into flower and vegetable beds, or spread before a mulching program, your customers will see rapid results. And, when customers see results, they come back to you for more!
Ingredients:

Dehydrated Composted Cow Manure
Compost
Sand

Applications:

Garden Beds
Mulching Trees and Shrubs
Top Dressing Lawns

Minimum Guaranteed Analysis:

| | |
| --- | --- |
| Nitrogen (N) | 2.00% |
|      Water Insoluble (N) | 1.6% |
|      Water Soluble (N) | .4% |
| Phosphoric Acid (P2O5) | 1.00% |
| Potassium (K2O) | 2.00% |

Available Bag Sizes:
1 cf
To request more information or to place an order, click here.
To select another Foster Brothers Dairy Farm product, click here.