MOO PLUS® DEHYDRATED COW MANURE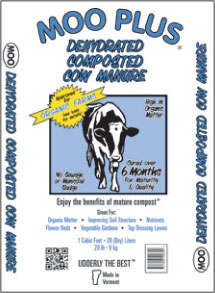 MOO PLUS®, our driest compost available, has a higher analysis than MOO DOO®. As an organic soil amendment, MOO PLUS® is a terrific product — easy to use and lightweight. Your customers will find that they prefer MOO PLUS® because there is virtually no odor connected with the dried compost! Encourage fall tillage for early spring growth on both vegetable and flower gardens. The slow release nitrogen found in MOO PLUS® leaches into the soil over the course of the winter, resulting in bounteous growth and an early bounce-back into your store for more!
Ingredients:

Dehydrated Composted Cow Manure

Applications:

Garden Beds
Mulching Trees and Shrubs
Top Dressing Lawns

Minimum Guaranteed
Analysis

| | |
| --- | --- |
| Nitrogen (N) | 1.0% |
| Available Phosphate (P2O5) | 1.0% |
| Soluble Potash (K2) | 1.0% |

Available Bag Sizes
1 cf, .5 cf
To request more information or to place an order, click here.
To select another MOO™ product, click here.