COMPOSTED COW MANURE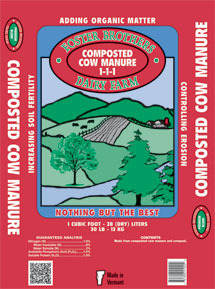 Foster Brothers Dairy Farm Composted Cow Manure is a great choice for the homeowner looking to add organic matter and a boost of nitrogen to the soil. This product yields a 1-1-1 analysis and should be incorporated into existing garden soil.
Foster Brothers Composted Cow Manure is also excellent for mulching around trees and shrubs, topdressing, boosting nitrogen levels, and improving soil. This product is compatible with Foster Brothers Dairy Farm Top soil for a raised bed project.
Ingredients:

Composted Cow Manure
Compost

Applications:

Garden Beds
Mulching Trees and Shrubs
Top Dressing Lawns
Increasing Soil Fertility
Adding Organic Matter
Controlling Erosion

Minimum Guaranteed Analysis:

| | |
| --- | --- |
| Nitrogen (N) | 1.0% |
|      Water Insoluble (N) | .8% |
|      Water Soluble (N) | .2% |
| Available Phosphoric Acid (P2O5) | 1.0% |
| Soluble Potash (K2O) | 1.0% |

Available Bag Sizes:
1 cf

To request more information or to place an order, click here.
To select another Foster Brothers Dairy Farm product, click here.